Salve lettori di WAVE OF ROCK...questa mattina si parlerà di una delle Rock band che ha segnato di gran lunga la storia del Rock mondiale con 40 anni di successi...fatti di assoli, spettacoli e riconoscimenti... ladies and gentlemen.... ecco a voi gli intramontabili AC/DC.
Il brano che ho scelto,che adoro e di cui parleremo stamattina è YOU SHOOK ME ALL NIGHT LONG e fa parte dell'Album Back in back che esce nel 1980 con 50.000 dischi venduti,secondo Album e con 200 milioni di dischi venduti in 40 anni della loro musica.Questo brano si è posizionato al 35 posto nella classifica TOP 100 AMERICANA E AL 38 IN QUELLA BRITANNICA.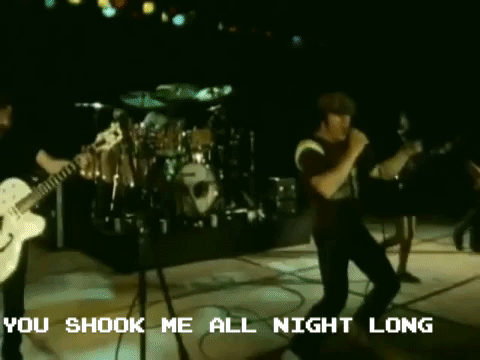 E' una delle mie preferite ed una delle canzoni di maggior successo pubblicata dal gruppo.In questo brano ci sono molti riferimenti sessuali,che poi noteremo nei vari video musicali e tali da essere criticati e censurati in una buona parte di essi, donne vestite in cuoio e cerniere posizionate all'altezza del linguine.Back in black venne pubblicato 5 mesi dopo la scomparsa di Bon Scott (a mio parere la vera ed unica voce del gruppo)la sua copertina si veste di total black in segno di lutto in seguito alla sua scomparsa.Infatti la scomparsa di Bon segnerà in modo profondo questa Rock band ,che avrà un periodo di forte sconforto, da far pensare quasi alla fine di questa stupenda band.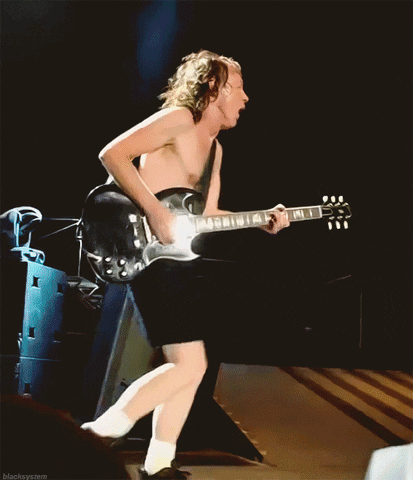 Ma grazie ai fratelli Young,fondatori e pilastri degli ac/dc,che sceglieranno il successore di Scott.... l'attuale cantante Brian Johnson.E' così la band è arrivata ai nostri giorni continuando a farci provare rock adrenalinico e scariche di alta corrente...tipico degli ac/dc.Eternamente Rock.